Other Services
Videobloc CMS
Our Content Management System (CMS) - Videobloc - offers a suite of functions to make managing your site's content simple.
Products
The product packages that you sell are viewed, edited and created in this section of Videobloc.
Each product will have its own criteria when setting up, these are:
ID Number
Name of Product
Description of the Product
Price
Billing Period – Monthly or Yearly
Video – does the package require video?
Editing a product also allows you to add any GeoBlocking settings.
Gift Subscriptions
Users may wish to purchase a gift subscription; This can be a UK or international, monthly or yearly subscription. In the case of our football clubs, this can be purchased from the club TV Site under the packages section: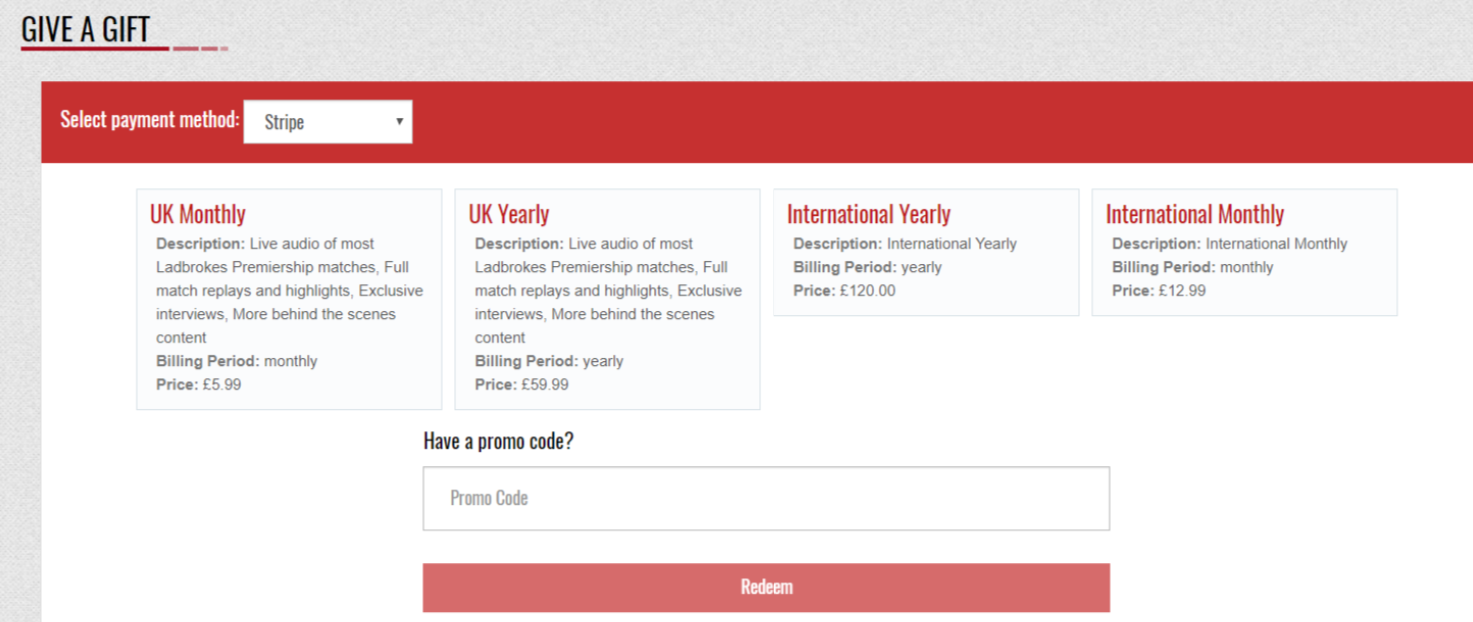 Once the package has been selected they then enter their details, the details of the recipient, and the date that they want the gift to be emailed to the recipient.
The gift section on Videobloc allows you to view all gifts purchased and run a search on individuals. The search criteria are as follows:
ID Number
From Email Address
To Email Address
To Name
Send Date
Expiry Date
Actions – allows you to edit any details
When a gift has been purchased and the date to send has arrived, we will send the recipient an email with a gift code that can be redeemed on the site.

Clicking on the 'edit' button in the search section will show details of the gift purchased. This will also show the gift code and if it has been redeemed. You can also resend the email from this section.
If someone purchases an International subscription but has a UK IP address, the system will not allow the code to be redeemed until they are overseas with an overseas IP address.

Reports
The reports section of Videobloc gives you a full breakdown on the current number of subscribers that are live on your system. This broken down into four sections for the purpose of this club's needs. The four sections show:
Total Number of Subscribers
Total Number of UK Subscribers
Total Number of International Subscribers
Total Number of Staff Accounts
These reports can be exported to downloadable .CSV file including the following data:
User ID
User name
Full name
Gender
Date of Birth
Email Address
Home Address
Postcode
Country of Origin
Telephone/Mobile Number
Subscription Package Purchased
Last Paid Date
Next Paid Date
Marketing Preferences
Payment Gateways
Subscriptions and purchases are handled through payment gateways. Our main provider is Stripe, but we've used Worldpay and PayPal too.
Static Content
The static content section of Videobloc is where you'll be able to change the parts of your site that aren't dynamically loaded. We typically see this used for terms & conditions, cookie notice, privacy policy and FAQ pages.
Firewall
Admins can use the Videobloc system to blacklist certain IP addresses.
Support
Technical / customer support is supplied by Stream Digital from our Livingston office via email & telephone, available Monday - Friday 09:00 - 17:00 GMT.
In addition, we provide live event day support for customers and technical support for each of our clients.