Video Services
Working with our partners and clients, we take the heavy lifting out of worldwide web broadcast. We have a well established track record in live events which is based on our Videobloc streaming platform.
In 2019 we produced 520 live sporting events to a worldwide audience. We also delivered 10 million hours of on-demand video to every corner of the globe.
We provide:
Front-End Web Portal
Live Streaming Platform
Payment Gateway
Cloud-Based Worldwide Network
All Broadcast Facilities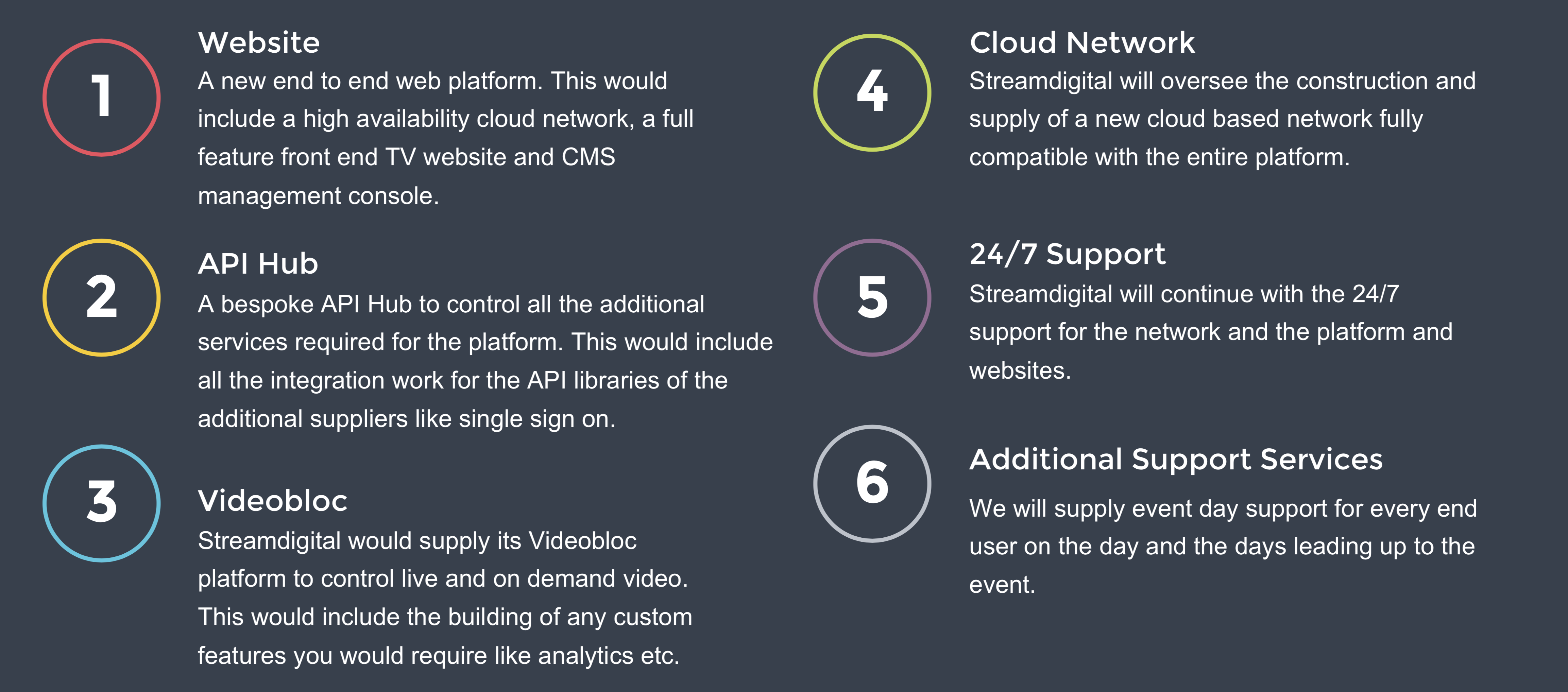 Videobloc is built around an open API. This allows us to plug in any data from existing databases or to create translators to feed the input points of Videobloc's API hub. Because of the way it has been built there is no problem modifying any data fields to merge multiple databases and sources, now or in the future. There is nothing in the process of future updating and merging that cannot be handled.
Stream Digital provide a cutting edge website with all the industry's latest technology and a feature set developed over many years of successful broadcast. We will also supply our full video platform developed in partnership with all our partner clubs as well as our live customer support, live platform support and program knowledge. All your staff will have to do is create and upload content.
We will supply and maintain:
Website
Live Streaming Platform
Subscriptions
Customer Support
Pulling of Satellite & Broadcast Games
Feeding of Streams to Site
Any Equipment You Require
We can guarantee this work as we have many partners that we have been working with for years. This is what we do and we know how to deliver a reliable service.
Video on Demand
Using Amazon Web Services (AWS), Videobloc allows video to be securely uploaded to your site. You will then be able to add a video title, thumbnail, description, tags, and select a category and VOD preset for your video. You'll also be able to add your video to a playlist.
You can also decide whether or not your video should be a freeview video, or if it should go behind a paywall - in which case the user would see the first 30 seconds of the video before being asked to subscribe if they haven't already done so. Furthermore, you can select whether or not the video should be 'recommented' or if you want it to be a 'headline VOD.' These controls can be used to dictate where your video appears on the page. You can also decide not to show a VOD at all by setting it as inactive, or by moving the publication date into the future. This means you can upload a video in advance and not have to worry about it being up in time for a set release date.
If your video contains spoilers, you can give your users the option to avoid it being shown on the site until a date that you set through Videobloc. For example, this is used for videos relating to football matches that have concluded recently. If the video is a post-match interview with the club's manager and he looks miserable, it would be fair to assume that the team didn't win the match. Some users may miss a live stream due to work or other commitments, but do their best to avoid the scores and watch the match back through our system. In the above scenario that experience is not ideal for customer.
VODs also have their own analytics, and you can set the dates by which to check these for each specific video.
Finally, once a video is live on the site, registered users will be able to like and comment on your video. We have a profanity list within Videobloc for this reason that you can add to and substract from at any time.